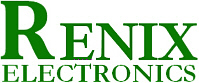 Return Policy
Returns

We want you to love your new parts and gadgets! Sometimes your project changes or something is not working the way you thought it would. Never fear, we are here to help!

90 day unmodified return policy

If you are not 100% satisfied with your order, we will be happy to arrange a return for any unused items purchased within 90 days. Simply contact us at returns@renix-electronics.com. If you have modified or tested your parts, please see our Modified product return policy.

Modified product return policy

Sometimes you can't tell if something is wrong until you test it. No worries! We won't leave you hanging. If you have modified your part and something goes wrong or you aren't satisfied with your item, our fantastic team of dedicated technicians who can help trouble shoot, offer advice and determine if your parts are defective.

In the event that something is determined to be a manufacturer error or failure due to defective materials, we will repair, return or exchange the item(s) as needed. Please contact Tech Support with your order number, description of your setup, and any information about your situation that may help and we'll see what we can do for you.

Damaged in Shipment

Please email Customer Service right away. Include a description of the damages, and pictures if possible. This information is very helpful to us in assessing how we package our orders and helps prevent similar problems in the future. We'll get replacements for the damaged goods out to you as quickly as possible.

General Return Guidelines

•Please arrange an RMA with us prior to sending any returns back to us.
•All returns must include any accessories, documentation, etc. that shipped with the product.
•If your return includes Lipo batteries, please contact us from more details on proper shipping procedures.
•If the item has been soldered to please do not remove, desolder, or otherwise modify any connected items before contacting Tech Support.
•Eligibility for return of modified items is determined on a case-by-case basis; we can not guarantee eligibility for modified items.
•Returns may take up to 2 weeks to process, not including transit times.
•Replacement orders can not be modified to include different or additional parts.
•You are responsible for return shipping charges that are not related to a manufacturer error.
•Returns for orders older than 90 days are eligible for replacement or store credit only.
•We reserve the right to limit support, and deny returns on items that were purchased over a year ago, ding and dent items, or old version releases.
•In the event that your return is not received in restockable condition, we reserve the right to change your refund method to store credit only.



Have a Problem with a Product?
To expedite the RMA process, please send an email to returns@renix-electronics.com


---
Engineering
Shopping cart
Our services