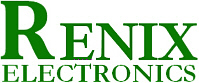 Renix Electronics - Electronic Hardware Design Capabilities
Hardware Design:
Hardware Design: Digital, Analog , Interface
Designs vary in complexities from a small 8-pin PIC12C Controller to larger Processors or DSP with a FPGA for I/O expansion, Peripheral Modules, Interface and glue logic. Electronic Designs consist both of Digital and Analog circuitry. Renix Electronics has completed many such designs as part of a deliverable or as turnkey solutions.
Hardware Design - Processors & Firmware
VHDL (Very High Speed Integrated Circuit Hardware Description Language ) for FPGA designs.
Complete VHDL Test Benches using text based vector input (stimulus) & output (error reporting) files.
(See our FPGA and Programmable page for more details on Xilinx and Altera FPGA designs)
| | |
| --- | --- |
| VHDL (Xilinx synthesis & Coregen tools) | Xilinx Spartan/ II /3, VIRTEX/E/II, CoolRunner |
| VHDL (Altera synthesis & MegaWizard Tools) | Altera Cyclone III, Avalon bus and SOPC Builder |
| Modelsim Simulation / Verification | Xilinx MicroBlaze, ChipScop Pro |
| | |
| CCS PIC C Compiler, Microchip MPLAB IDE | MICROCHIP PIC12/14000/16C |
| IAR Embedded Workbench, Quadravox AQ430 | Texas Instruments MSP430F4x/11x |
| C/C++, Assembly Languages | INTEL 8080/85 / 49, 8031/51, 8088 / 86, PHILIPS 87C652 |
Hardware Design - Interfaces, Analog & Power
We have experience with several serial, parallel or custom interfaces requiring custom handshaking.
A/D-D/A, PWM techniques, I2C, 3-Wire SPI, LVDS, RS 232 / 485 to name a few.
Power Supply designs - Switched Mode & Linear Regulated Power Supply design.
Rectification, Passive filtering, Op-Amp based Active Filters.
Inductive drive electronic circuit design, including the device protection circuitry. (Snubber Circuits).
---
Engineering
Shopping cart
Our services