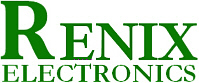 Information about Renix Electronics
Processor Boards stackable with Interface and Sensor Boards, Debuggers and Programmers, FREE Compilers
See our Catalog Pages for Hardware, and the Development Tools section for Compiler suggestions
Ecommerce Section
This section showcase our internally designed products.
This is part of an ongoing effort to expand the growing number of development boards.
The modularity of the boards allows designers to pick from our Processor Boards, and add any of the Interface & Sensor Boards from our designs or other 3rd part vendors such as Booster Packs from TI
Together this creates a Board Stack consisting of a Processor Board, stacked with one or more Interface boards
Evaluation Boards Customizing
Renix Electronics can customize any Processor or interface Boards for specific needs.
In addition to the Demonstration code that comes with a Processor Development Board, we also offer code development on a Processor board to suit customers' needs.
Design Services section
We have extensive experience in Analog and Digital circuit with different technologies, Hardware interfaces, software languages used in Firmware design, VHDL for FPGA designs, Altium Designer for Schematic capture and impedance controlled multi-layer PCB layouts.
Whether a modification to a Processor Board is required, or a customized new design layout is required, we can help you. We have been involved with Microcontroller designs since the first Intel 8080 Micros.
Please visit our other pages for more specific information.
---
Engineering
Shopping cart
Our services